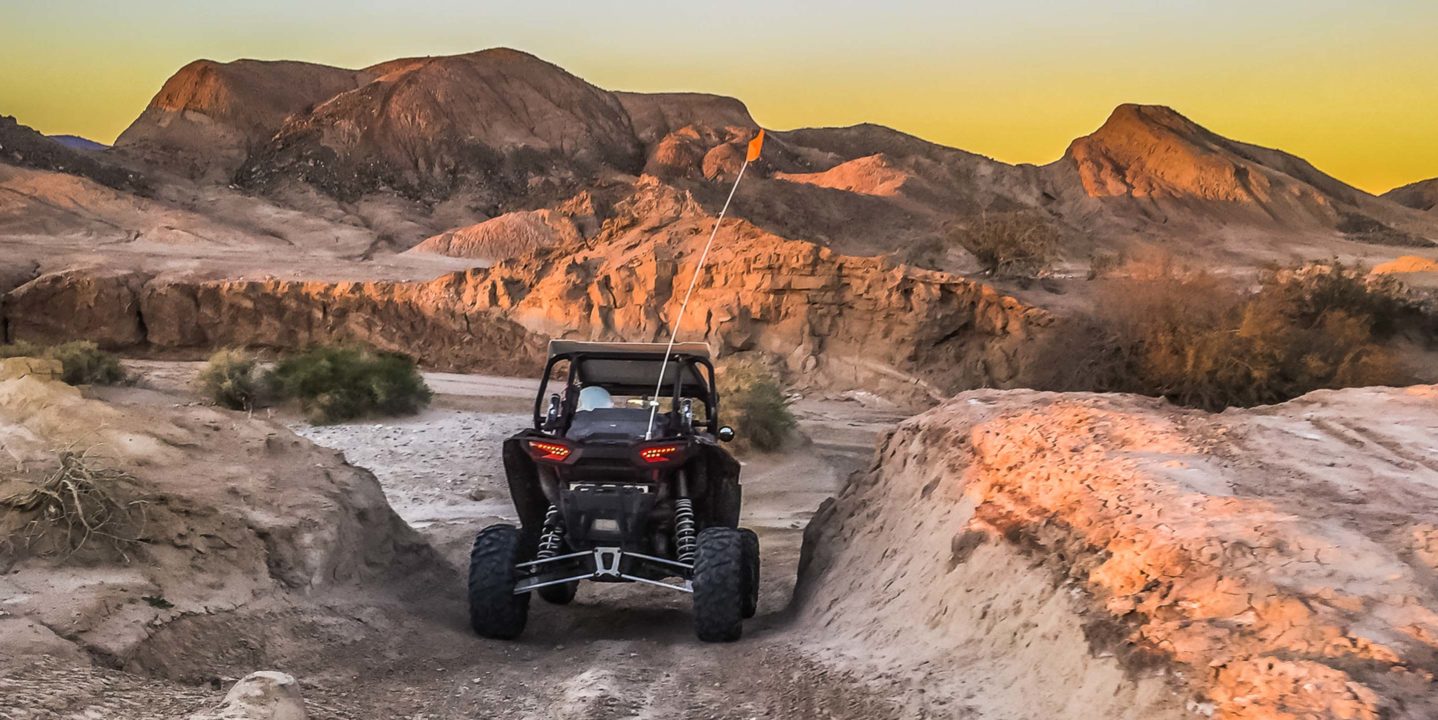 What ATV/UTV do you recommend?
It's all about rider fit. Our Average adult rider will operate the Honda 250ex or Kymco Automatic. The average younger riders vary depending on ability and riders' size.
Do we pick up the ATV's at the store or do they get delivered to the park?
All ATV's are staged at our rental office and you ride from our location straight out into the park.
Can we use a car seat in a RZR?
Sorry, we do not allow car seats to be used in the RZR. For younger passengers, we require them to be able to support a helmet with or without the neck brace. The must be able to sit with their back firmly against the backrest and reach out and grab the hand hold in front of them. When seated, the seatbelt must fit across their chest properly. The last thing we want to do is have a child hurt.
What rentals can accommodate 2 people?
The only vehicles that can accommodate 2 people safely are the line of UTV's and the Can-Am Outlander. Any Outlander passenger must be able to sit on seat and have feet reach the footrest (Approximately 50"). UTV passengers must be 60" to be in the front seat and 46″ for the back seat.
Do you have Taxis or Ubers in your area?
No, but most Uber drivers will come back for you if you speak to them beforehand.
Are there Dunes?
No, there are no dunes in our area. The riding area consists of washes and exciting desert trails to explore.
Can we stop and eat during our riding time?
Yes, you can, but your rental time does not stop so it cuts into your riding time.
Can we ride out to the Salton Sea?
No, we ask that you do not. If you get to close to the sea, you will sink. The sand surrounding the Salton Sea is like tar. One you are in; it is not easy to get out. If you choose to go out there and you get stuck, you will have to hire a tow truck to get you out.
Does it get windy?
Sometimes our weather in the desert is unpredictable. Windstorms have been known to come up.
When do you think the best time to ride is?
We recommend coming in the morning as it is not as busy.
Can you drive the ATVs/RZRs on the streets around the area?
No…. You are legally required to stay on dirt trails next to any paved roads. If you come to an intersection, you are required to cross all paved streets at a 90-degree angle. If you are caught riding on the street, you can be ticketed and that is your responsibility.
My friend has never had a driver's license; can they still ride?
Yes, they can ride, but they need to bring current valid photo id. Riders with suspended, revoked or expired licenses are not allowed to ride in the state park.
What do I wear?
Wear Long pants, closed-toe shoes, and long sleeve shirt or sweatshirts.
What type of shoes do I need to wear?
We require all renters to wear closed-toe shoes!
Is there a place to store my belongings?
There are no compartments on the vehicles to store items. Please consider bringing a backpack or leave valuable items in your vehicle. We do have a check-in offer thru Yelp for a FREE drawstring backpack.
How long do people normally ride for?
Normally, renters go out for 2-4 hours. You have 87,000 acres of desert trails to explore
Do we need to arrive early? If so, how early?
Yes, only on the weekends we ask that you are here at least 30 minutes prior to your reservation as it is a 30-minute process to get you out.
I am bringing someone else's child with me, is that okay?
Yes, you can. Before they can ride, their legal guardian needs to fill out a waiver and we also need a copy of their license.
Do you rent in the rain?
Yes and No, it's best to call first before you head out if it's raining, we do get flashflood warnings and can be too dangerous to ride.
Do you rent dirt bikes?
No, we do not rent dirt bikes only ATV's and UTV's.
Is it a guided tour?
No, this is a "Self-Guided" Tour. We provide you with a map and show you the trails that will work with your rental time frame.
Can someone under 18 ride alone in the park you do they have to be supervised?
No, anyone under the age of 18 needs to be accompanied by an adult at all times while riding on an with us.
Can I leave a cash deposit?
Yes, we accept cash for the deposit of the ATV's only. In order to leave a cash deposit, we require you to purchase our damage waiver.
We do not allow cash deposits for any our UTV's.
Do you have a parking lot?
Can we take the ATV's to the Glamis Dunes?
No, All of our rentals need to stay in the Ocotillo Wells SVRA.
Do you offer any 24-hour rentals?
Yes, but only on our ATV's.
Do we have to wear helmets? If so, do you provide them?
Yes, helmets are required, helmets are provided with the rental at no extra charge.
Is it Dangerous?
Like anything else, it can be dangerous if you ride over your ability. Our instructors go over everything with you and explain how to ride safely.
My wife is pregnant can she ride her own or be a passenger?
No, for the safety of the mother and unborn child, we do not allow this.
What are some good places nearby to eat?
Sorry, we are in a remote location. Across the street from our rental office is a Jack in the box, Pizza hut, and Subway.
What hotels are in the area?