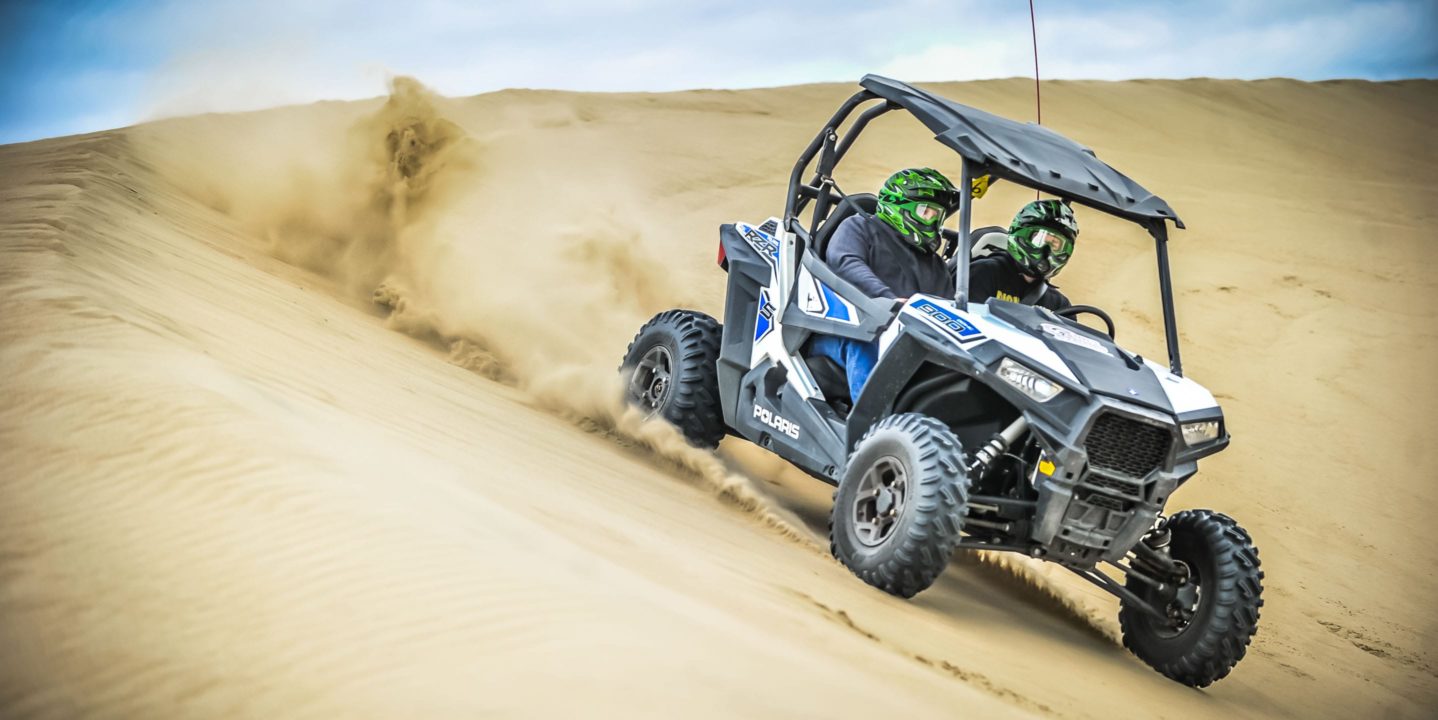 One of the most exciting ways you can discover and enjoy the Central California Coastline is taking a Pismo Beach ATV rental out for a ride over the amazing Pismo Dunes.   
Located near San Luis Obispo, Pismo Beach is one of the most popular resort areas on the West Coast. It offers a range of activities for families, adventurers, and vacationers from all over the United States.
If you are planning a visit to the Central Coast, or you already live here, riding through these sand dunes is something you'll never forget. In this article, we share 5 fun facts about Pismo Beach ATV rentals you may not have known.
5 Fun Facts About Pismo Beach ATV Rentals
There are very few places which offer as much fun to take an ATV for a ride like the Pismo Dunes, with its 'Sahara Desert' like landscape.
Here are 5 fun facts why Pismo Beach is number one for so many off-roaders:
1. Pismo Beach is the only place in California where you can drive an ATV on the beach
Known as the last haven for off-roaders, Pismo Beach is the only beach in California you can drive on. There is no shortage of beach and dunes for you to enjoy either, with over 3,500 acres at your disposal.1
Officially known as the Oceano Dunes State Vehicular Recreation Area (SVRA), the Pismo Dunes are the number one destination for ATV riders along California's Central Coast.
The towering Pismo Beach sand dunes have been shaped by the strength of the Pacific Ocean and winds, to create this unique landscape of wave-like crests… perfect for ATVs.
Head east and you will find some gentle slopes, ideal for learning how to navigate the dunes safely.
Head west and you will encounter steep inclines, which experienced riders can take on to really get their adrenaline pumping.
2. There's an ATV for everyone to rent in Pismo
It doesn't matter if you are a complete beginner or seasoned expert, a family or group of friends. The powdery sand dunes provide terrain suitable for every type of rider, and Steve's ATV has a vehicle to match your needs.
Our Pismo ATVs start at 80cc which are small and lightweight, perfect for ages 8-12 to get used to controlling an ATV, allowing young riders to experience the fun of the dunes.
Our extensive range of ATVs goes right through to the powerful Honda 400ex and Cam Am Outlander 450. To ride these machines you must be over 18 and show high-performance ATV riding abilities, due to their incredible performance and power.
The vast open dune area and range of vehicles we have on offer guarantees that there is the ideal combination for everybody, delivering a fun day out you can all enjoy.
3. Pismo Beach weather is almost perfect all year long
When you get to Pismo Beach you can expect to be greeted by amazing weather all-year-round. There are on average 315 days of sunshine, with a typical temperature range of 66 to 84 degrees (Fahrenheit).
This makes Pismo Beach a great destination to visit any time of the year. The beach and sand dunes together span 23 miles of coastline, which you can drive across on an ATV or any other off-road vehicle.
With beautiful landscapes and near-perfect weather, it has become one of the most popular off-road destinations for people from all over the United States to let loose on their ATVs.
4. Pismo Beach is conveniently located just 3 hours from Los Angeles
If you're landing at LAX for vacation or looking for something different and memorable to do, come down to Pismo Beach. We are just a three-hour drive down the road, and it's no ordinary road.
You will be driving along U.S. 101, one of America's most popular routes for road trips. You'll drive by some of California's best beaches, through mountainous coastal landscapes, with plenty of unique places to stop and see.
You may not expect to see Denmark along the way, but founded by Danish settlers in 1911, Solvang is a miniature Denmark. With plenty of Danish bakeries, traditional Danish buildings and even a reproduction of Copenhagen's famous Little Mermaid statue.2
If you're heading down from San Francisco in the north, the U.S. 101 will also bring you to Pismo in just 3 hours. You'll drive past the rolling hills in Silicon Valley as you pass through San Jose, and make your way down the beautiful California coastline.
Oh, and when you get to Pismo Beach, let's not forget you will be driving some awesome ATVs on the only beach in California that allows it.   
5. And… It's not that expensive to rent ATVs at Pismo Beach
The best part about all of this is that it isn't that expensive to enjoy an amazing day out here, whether it's the entire family, a group of you, or you fancy hitting the dunes alone.
At Steve's ATV we offer the most affordable prices, the best service, and best machinery available at Pismo Beach.
For young riders (8-13yrs) our prices start from only $40 an hour, $50 for two hours, and only $20 for each additional hour on top of that.
For riders a little older (14yrs+) we start from only $55 an hour, $70 for two hours, and only $30 for each additional hour.
For adults our ATVs start from only $80 an hour, $100 for two hours, and only $50 for each additional hour, and our ATVs will all deliver their full power.
Unlike other ATV rentals, we don't detune any of our vehicles from their original factory settings, making sure you get the full performance capabilities from all of our ATVs and RZRs.
Reserve Your Pismo Beach ATV Rental With Steve's ATV
The Oceano Dunes SVRA feel like they have been tailor-made for off-roading. They offer riders a mix of amazing beach views and adrenaline pumping inclines, leaving a lasting impression on everybody who drives over them.
As the only beach that you can drive on, there is no other location in California which can offer the same or even similar terrain. It is a unique experience that already draws off-road enthusiasts from all over California and should be your next ATV rental destination too.
This is why Steve's ATV Rentals offers various Pismo Beach discounts and deals.
Not only do we offer our own special offers such as:
First Run of the Day

Sunset Riders Specials

Group Specials

And Many More…
We have also teamed up with several local hotels and 'Margarita Adventures' to bring you exclusive packages you can't find anywhere else.
Check out our full range of 'Discounts & Specials' to find out more.
We hope to see you down here soon to experience the awesome sand dunes first-hand for yourself, if you have any questions give us a call on (844) 278-3837, we would love to chat with  you.
 Or…
Reserve your ride with Steve's ATV today, and prepare for one of the greatest Pismo Beach adventures you can have.