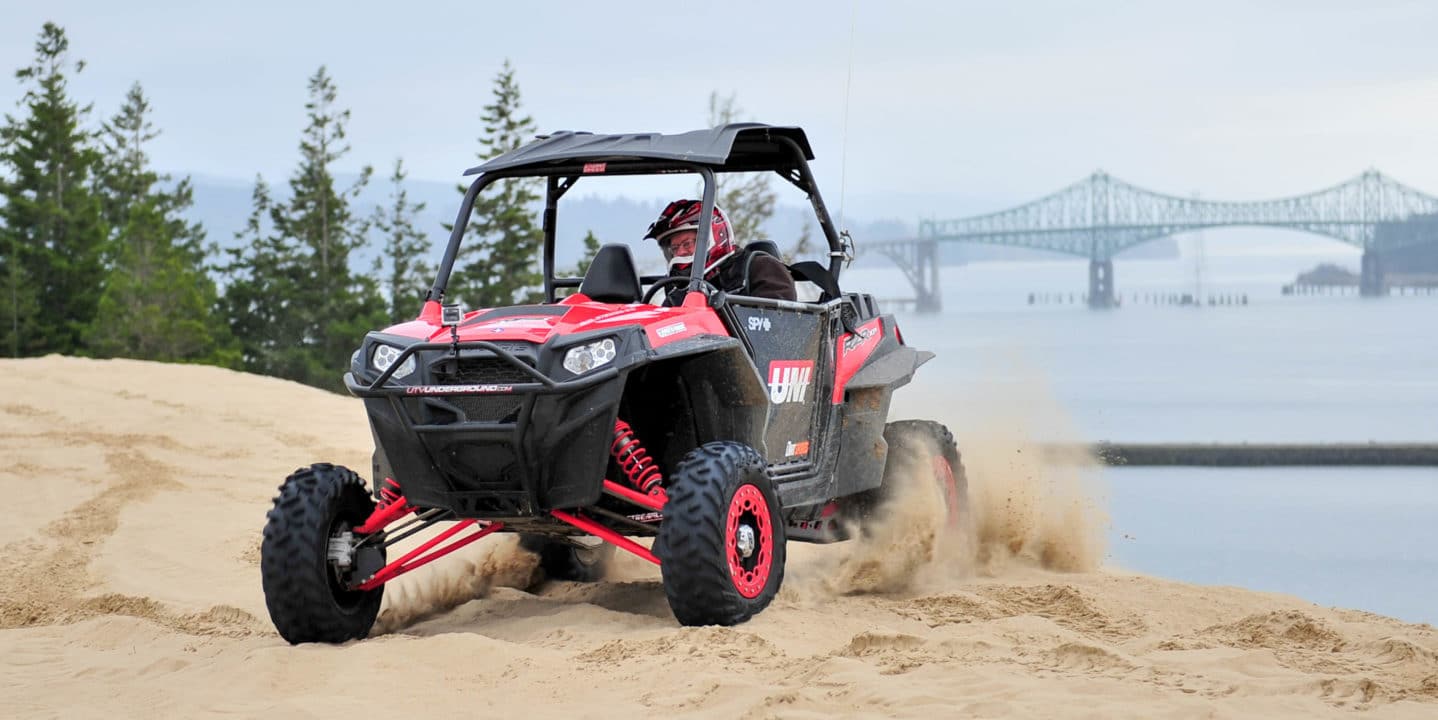 What ATV/UTV Do You Recommend?
We can make a general suggestion, but it comes down to rider fit and rider ability. We will evaluate all riders during the instruction time, and if we don't feel you fit that vehicle right, we will suggest another bike. We want you to be safe and have a good time. Our Average adult rider will operate the Honda 250ex or Kymco Automatic. The average younger riders vary depending on ability and riders' size.
How do we get the ATV's?
Pismo Beach: All ATV's are staged on the beach by pole 2. Pole 2 is located a mile down the beach. It's just a short drive down the beach.
Oregon Dunes: You ride right from our office to the dunes. Approximately a 5 mins ride.
Palm Springs/Salton City: You ride directly from our office to open area.
Can we use a car seat in an RZR?
Sorry, we do not allow car seats to be used in the RZR. For younger passengers, we require them to be able to support a helmet with or without the neck brace. The must be able to sit with their back firmly against the backrest and reach out and grab the handhold in front of them. When seated, the seatbelt must fit across their chest correctly. The last thing we want to do is to have a child hurt.
What rentals can accommodate 2 people?
The only vehicles that can accommodate two people safely are the line of RZR UTV's and the Can-Am Outlander. Any Outlander passenger must be able to sit on the seat and have feet reach the footrest (Approximately 50"). Rzr passengers must
Can we stop and eat during our riding time?
Yes, you can, but your rental time does not stop, so it cuts into your riding time.
Does it get windy?
Yes, later in the afternoon, the wind tends to pick up.
When do you think the best time to ride is?
We recommend coming in the morning as it is not as busy and less chance for wind.
Can you drive the ATVs/RZRs in the water?
NO!!! Saltwater corrodes the metal. If we see you driving in the water, you will be charged $50
My friend has never had a driver's license, can they still ride?
Yes! They need to bring a current valid photo id. Riders with suspended, revoked or expired licenses are not allowed to ride in the state park.
What do I wear?
Wear Long pants, closed-toe shoes, and long sleeve shirt or sweatshirts. It can get cold quickly sometimes. It can be sunny and beautiful and then the fog rolls in suddenly and gets cold quick. Every person is required to wear a helmet, so If you have your own, please bring it. We have helmets to lend you, and they are included with your rental. If you have goggles or riding gloves, feel free to bring them. If you don't have your own, we do them.
What type of shoes do I need to wear?
We require all renters to wear closed-toe shoes!
Is there a place to store my belongings?
There are no compartments on the vehicles to store items. Please consider bringing a backpack or leave valuable things in your car before you head down! We do have a check-in offer through Yelp for a FREE drawstring backpack.
I am bringing someone else's child with me, is that okay?
Yes, you can. Before they can ride, their legal guardian needs to fill out a waiver and we also need a copy of their license.
How long do people usually ride for?
Normally, renters go out for 2 hours. That's enough time to see a good portion of the dunes! If you're really into it and like it, you are more than welcome to go for more. The max time is 8 hours.
Why do we need to arrive 30 mins early?
We ask that you arrive 30 mins early to complete your rental contract. We also have a 13 min safety video that we need you to watch. After those two things are finished, we fit you for a helmet and give you instructions on how to operate your rental vehicle before sending you off on your own. All those little things add up!
What are some good places nearby to eat?
We are a little bit out of town and all the places to eat around are a little bit of a drive. It's a great little drive to see the town of North Bend/Coos Bay!
A few of our favorites places are:
What hotels are in the area?
On our website, we have a list of hotels we partner with. It has links to their sites and their phone number.