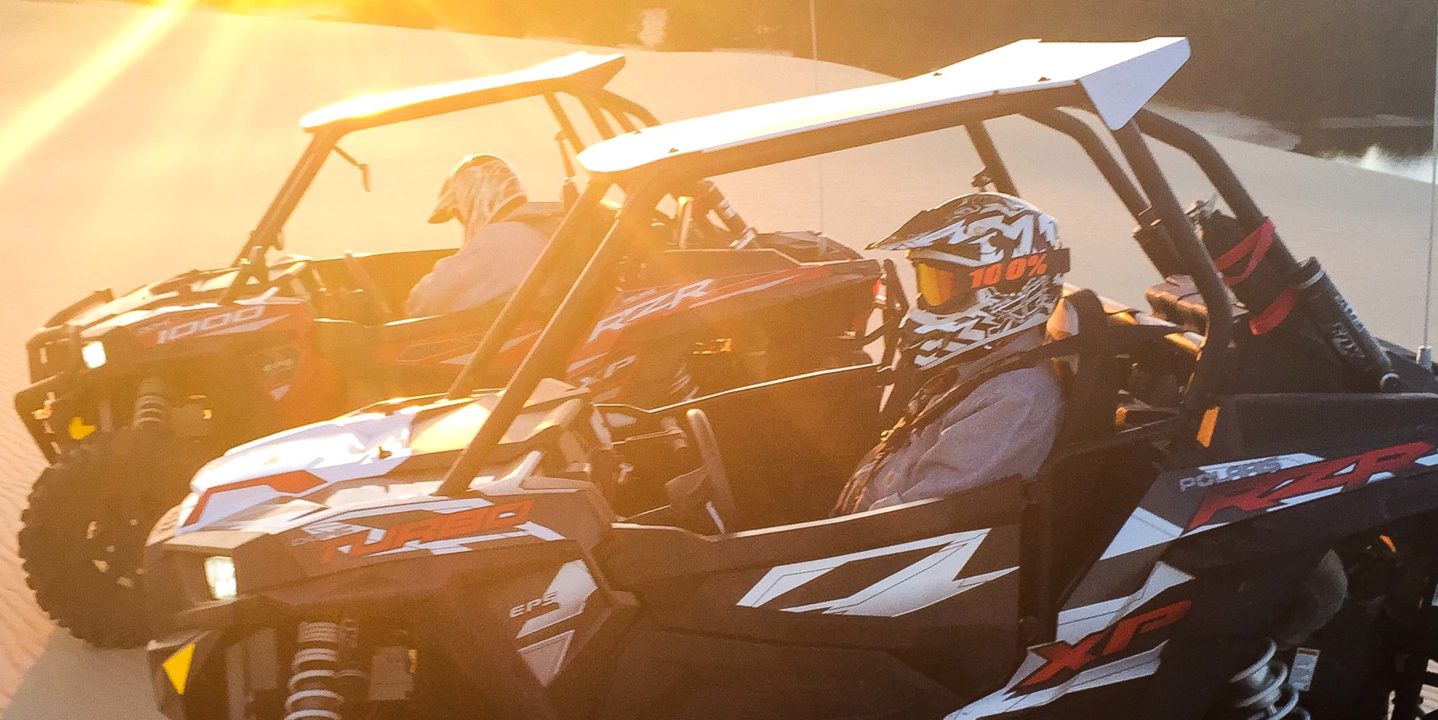 All customers are required to watch as safety video prior to riding in the dunes. Our trained instructors will show you the best practices for riding in the dunes.
Safety is a priority here at Steve's ATV Rentals. We want you to have a fun safe trip with us. Here are the steps for our safety instruction.
All customers will be required to watch our safety video prior to any rental leaving our area. Only renters that have signed our contract and have gone through safety video and safety orientation are allowed to ride.
After you have watched the safety video, your safety equipment will be Issued. Helmets are always provided with each rental for all drivers and passengers. Additional safety gear, such as chest protectors, goggles, and gloves are available to rent for a small fee.
Rental Demonstration
A trained Instructor will teach the basic ATV/UTV operation with a stationary rental. This includes levers, steering controls, start & stop procedures, and how to put the vehicle in forward and reverse, as well as shifting gears on rentals that require it. Instructors will also ensure all customers meet rider fit requirements. Instructors will also show the customer how to secure their helmets and other safety gear properly. Reminder – Closed-toe shoes are required when riding with us.
Riding Instruction
After the rental demonstration, the customer will be asked to demonstrate that they can safely operate the ATV around a series of cones set up in the demonstration coral with circles, figure 8's. The riding Instructor will teach how to control the ATV in turns/up hills, downhills, swerves, and sudden stops. The instructor will coach customers while they ride the training course and is making a responsible decision on the renters' ability to ride. If the riding instructor determines that the riders are good to go, they will start there ATV rental.
There are going to be times when one member of a group or family lacks the basic understanding. Remember we are doing this for their safety. We will not let them ride against the instructor's advice. We will give them an option to switch equipment if it is available and if it may solve the problem and use their rental time with a remedial instructor. If the additional training nets results, they can be reevaluated and sent out If the customer does not want to continue we will refund their money. We expect to spend about 5 to 10 minutes on the track.
We want everyone to have a safe fun time!