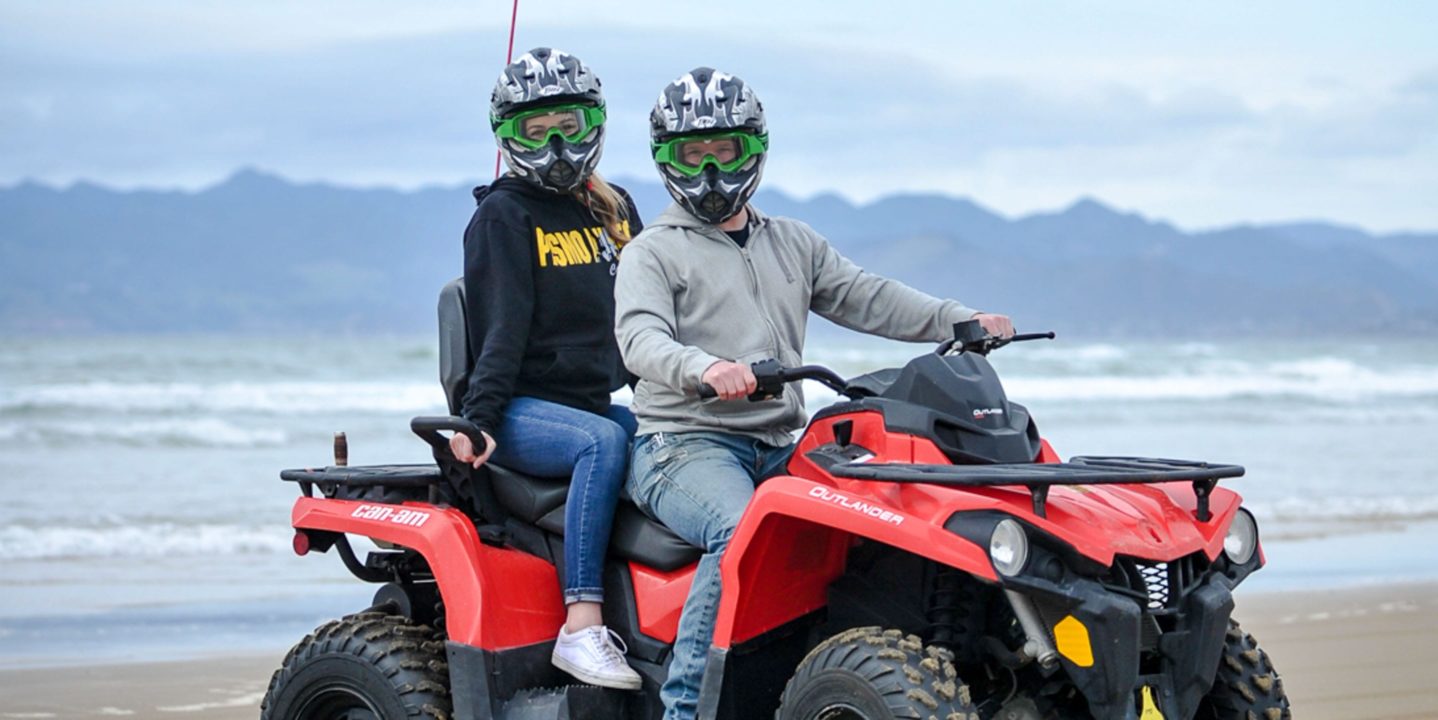 So you're coming to Pismo Beach to Ride ATV's at Steve's ATV Rentals. Here is what you need to know and what to expect.
Riding Area
Oceano Dunes State Vehicle Recreation Area is a 5-½ mile stretch of beach that has 3500 acres of dune access for riding. Our rentals are staged on the beach 1 mile from our Pier Ave rental office. Once you get your rental, you ride right from our staging area down the beach to the open space. There is no guided tour, so you are free to explore the dune area during your rental time. 
Getting to the Staging Area
For everyone's convenience, we provide all customers a shuttle to our staging location free of charge. If you would like, you can drive your vehicle on the beach to our staging location. If you drive, please note that our State parks has a $5 entrance fee to drive on the beach. We do advise only driving on the beach during low tide unless your vehicle is 4-wheel drive. The sand can be soft at times, and 2-wheel drive vehicles can get stuck pretty quickly.
Checking In
We have two check-in locations – Pier Ave office and our Pole 2 Staging Area. Both sites offer the same services for check-in, but the pole two staging area has the rentals waiting for customers. Pier Ave customers will have to drive or take the shuttle to the staging area.
Getting Your Rentals
After the paperwork is complete, a 13min safety video will be shown. This video is on what to be aware of in the dunes and on the beach. When the video is complete, customers will be fitted for a helmet and then head out to the rental staging area for vehicle instruction. All customers are required to show that they understand the instructions and can control their rental vehicles. After you show us you know your rental, you are ready for your adventure.  
What to Bring
All Riders and Passengers 18 and over are required to bring a valid Drivers License or ID with them. 

Drivers with suspended or revoked licenses are not allowed to drive. This beach is considered a state highway, and all rules apply. 

Please bring the credit card that was used to make the reservation. 

Please bring any discount cards (i.e., Military, First Responder)

All Riders under 18 must have written consent from a parent or legal guardian if that parent/guardian is not present. 

Closed-toe shoes are required.

Bring a jacket or sweatshirt. Winds can come up suddenly. 

Fully charge cell phone. You might need to contact us. 

Backpacks are a great way to carry items while on your adventure.