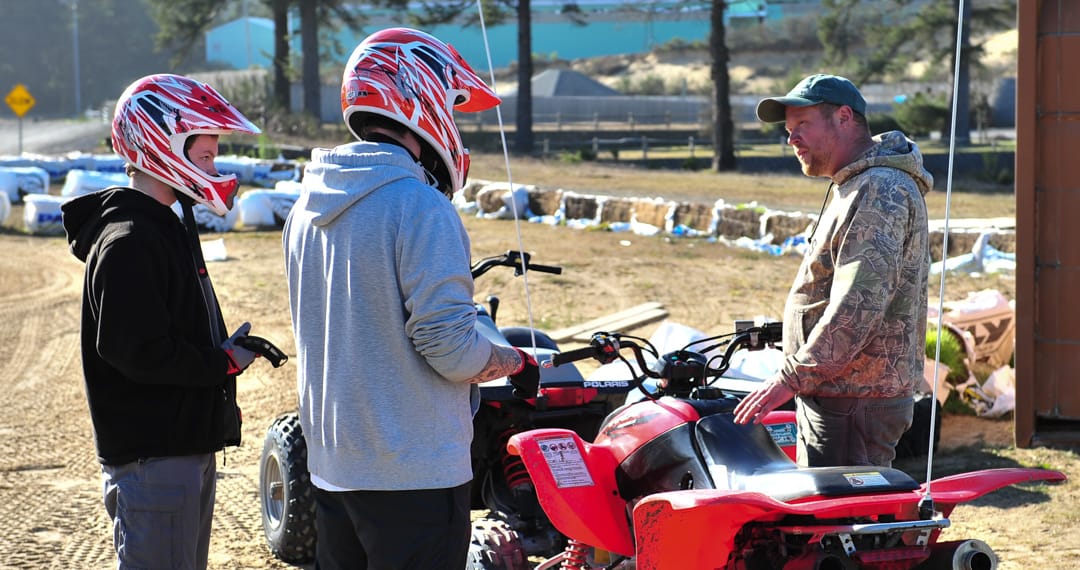 Riding a four-wheeler is one of the best outdoor activities and many long-time riders still remember their first times. Whether you're looking for a little excitement or need a break from being home to explore the outdoors, ATVs offer something for every type of thrill-seeker. While it can seem daunting to imagine your first time, learning some of the basics of four-wheelers alleviates the stress or questions you may have.
Before you hop onto a four-wheeler for the first time, here is what you need to know!
What to Wear
While there isn't an official uniform for ATV-riding, there are some suggested items to bring and wear. First and foremost is a helmet. This protects your head from any hazards and is paramount for staying safe. If you don't have one, Steve's ATV rentals include one. Additionally, wearing goggles protects from sand, dust, and dirt. 
Next is the recommended dress code. You're going to want to wear long, durable pants—think jeans—to prevent any scrapes or small cuts. They're also useful if the weather gets chilly. Gloves are similar in that they're great for the cooler weather and protect your hands while riding. Make sure you wear closed-toe shoes as well. This prevents injuries and keeps you comfortable from the heat the engine generates.
What to Bring
Some items may vary from person to person, but the recommended items to bring for your first ATV riding adventure are:
jacket or sweatshirt

water bottle

sunscreen

charged cell phone

a backpack to carry everything
What to Expect When You Arrive
Chances are most of your questions relating to the ride itself. The benefit of riding with the assistance of a knowledgeable staff is that you have a team to help you adjust. Overall, you can expect to have a lot of fun riding a four-wheeler. Safety is everyone's top priority so the first step is riding instructions and a demonstration. Pay close attention so you'll have an easier time adjusting to your new ATV.
Make sure to ask any questions you have to make your first experience less stressful. 
Best Locations to Start
Some of the best places to ATV also happen to be beginner-friendly terrain. Pismo Beach in Oceano, California features beautiful sand dunes, a great choice for beginners and experts alike. If you're looking for 85,000-acres of trails and a beautiful desert landscape, check out Palm Springs. In North Bend, Oregon, the Oregon Dunes features a 40-mile stretch of beach and dunes with amazing views. 
Knowing what to expect before you get onto a four-wheeler makes the experience much less stressful and uncertain. At Steve's ATV Rentals, our helpful staff is here to help you every step of the way. Are you interested in riding with us? Check out our discounts and specials and book your first ATV experience today!