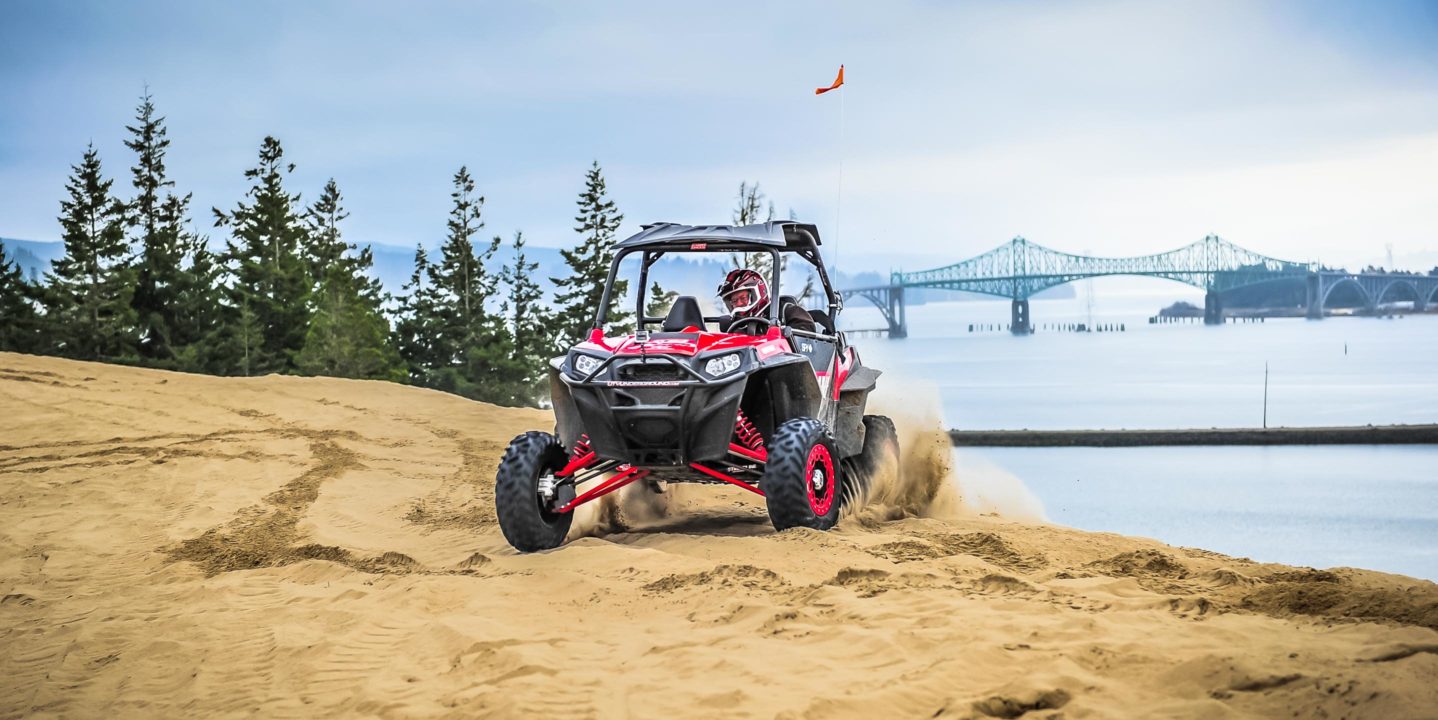 Are you looking for an exhilarating, breathtaking, and fun off-road adventure? Why not ride an ATV in Oregon?
The huge stretch of wind-sculpted dunes (which tower up to 500ft above sea level) along the Oregon Coast is the largest of their kind across North America. The 40-mile stretch of Oregon Coast provides a number of stunning trails across a variety of surface types. 
Thousands of riders come for the thrill of the Oregon Dunes. In this article, we're going to look at the three main Oregon ATV trails, and how you can experience the excitement of ripping through the sand dunes yourself. 
40 Miles of Oregon ATV Trails Has It All
The extensive Oregon Dunes National Recreation Area (NRA) stretches from the Coos River in North Bend, right through to the Siuslaw River in Florence. 
The stark contrast of dunes, forests, and ocean all in close proximity is a truly rare sight. This unique 31,500-acre site has become a place of recreation for all, with a host of activities available. 
If you're keen on watersports, over 20 lakes, ponds, and streams are waiting for you. You can enjoy a bunch of different activities, including:
Sailing

Canoeing

Water-Skiing

Swimming

Scuba Diving

Fishing
You can also take an escape from the sometimes chaotic nature of daily life for a few hours, or days spent surround by nature. The coastal forests provide a variety of amazing hiking paths and campsites. 
One moment you could be exploring the wildlife in Lake Woahink, and the next you could be ripping through the largest sand dunes in the United States on an ATV. The Oregon Coast is an outdoor lovers paradise. 
From Florence to Coos Bay 
The 40 miles of coast from Florence to Coos Bay has every type of trail for riders to fully enjoy a day out and experience what an ATV can do. There are three main off-highway vehicle riding areas which have been set aside to provide riders with a variety of experiences.
The Umpqua Dunes
At the Umpqua Dunes, you'll see where the dunes truly tower over the ocean. This area at Winchester Bay has some real monsters towering up to 500ft, which are uniquely curved. 
These huge dunes have made this one of the most popular off-road vehicle areas, you'll see, and hear fellow riders enjoying themselves throughout the sand dunes.
U.S. Highway 101 ― the coastal highway leading north from California ― provides the main link to the Oregon Dunes NRA trails. 
You'll also find three camping areas here:
South Jetty to the Siltcoos River
Lying just south of Florence where the mountains move further inland, the dunes lie right along the coast, with the estuaries of three major rivers connected by two long stretches of sand. 
There are numerous scenic sand roads and designated rides between South Jetty and the Siltcoos River for you to enjoy. The dunes here are generally smaller than the Umpqua Dunes at Winchester Bay and larger than those found at Coos Bay. 
One of the most interesting features of this area is the five large 'tree islands', which are remnants of olds forests now surrounded by sand dunes.
There's also a mile-long stretch of smooth wet sand known as the 'Drag Strip'. We think you can guess why. 
You'll find two camping areas here:
Spinreel to Horsfall
Coos Bay boasts the largest riding area at the Oregon Dunes NRA between Spinreel Campground and Horsfall Road.
If you're looking for variety and adventure, you can find it here. A mix of sand roads, dunes, and forest trails provide a playground for riders. Beach access gives an added bonus if you're looking to enjoy a calmer ride along the shore. 
KOA Campground near Hauser provides sand access for off-road vehicles in Coos Bay. The Oregon Dunes KOA is a fully serviced campsite with water, electric, sewer, and TV hookups, which is great if you're planning a longer stay in Oregon. As a member of the KOA Family, Steve's ATV is offering a 5% discount with all KOA Value Kards. Just present it at the time of check out.
Get Everything You Need at Oregon Dunes Motorsports
At Steve's ATV Rentals in North Bend, we have everything a rider could need. There are over 11 different models of ATVs and UTVs for you to choose from when renting.
We also specialize in ATV sales, servicing, spare parts, and accessories at affordable prices. We are dedicated to ensuring all our riders have a safe experience by providing industry-leading education and training. All of our instructors are qualified to provide certification as required by riders in the state of Oregon. 
You can rent ATVs from us at Oregon Motorsports, fill up with our premium unleaded race fuel, and ride right onto the Oregon Dunes NRA.
One Last Thing
The Oregon Dunes NRA is one of the most expansive and unique riding areas in North America. It provides scenic ocean views, sweeping forest trails, and 500ft dunes that can't be replicated anywhere else.
The breathtaking landscapes and thrill of an ATV ride make this an experience you won't soon forget. With ATVs available for all ages and riding abilities, we offer families a memorable day out. We also offer a range of discounts including:
First, run of the day

Sunset riders special

Super secret walk-in special

10% Discount for 1st responders
If you're interested in saving some money, check out our full range of 'Discounts & Specials'.
We look forward to welcoming you here in Oregon to experience the 40 miles of fun and freedom along the incredible coastline for yourself. If you have any questions about riding ATVs in Oregon, give us a call at – (844) 278-3837
Or
Reserve your Oregon Dunes ATV adventure today.