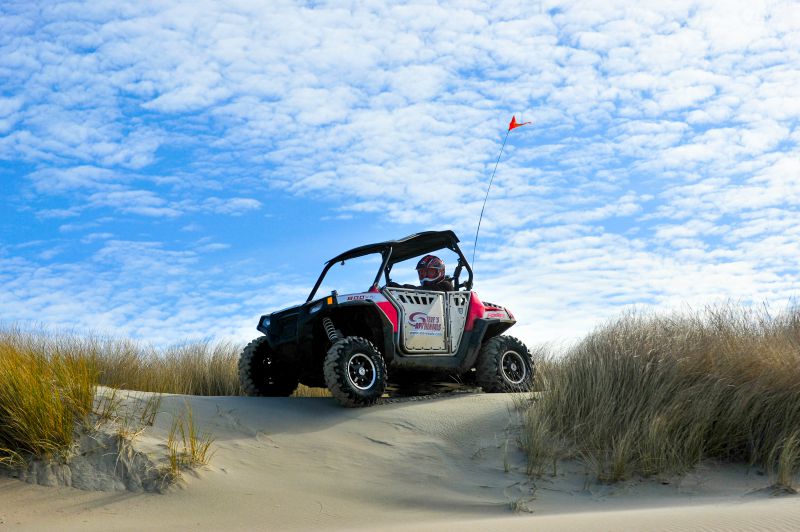 Have the adventure of a lifetime in a Polaris Razor UTV. These state-of-the-art all-terrain vehicles are arguably the most fun and exciting UTVs in existence. They're also in a class of their own when it comes to performance and design.
Steve's ATV Rentals has made it possible for you and your passengers to experience the picturesque and one-of-a-kind views from the dunes in Pismo and Oregon and the desert in Palm Springs. Choose single, double, or 4-person side-by-side that can accommodate everyone in your party.
From the vehicle's origins to rental costs, this article covers everything you need to know about RZR rentals at one of our three west coast locations.
A Brief History of the Polaris RZR
Through the years, Polaris Industries has carved out a name for itself as the elite maker of side-by-side UTVs. Like the longstanding history of all-terrain vehicles, which you can read more about here, the Polaris RZR has a rich backstory, as well.
Introduced in 2007 as the Ranger RZR, Polaris successfully released the first trail-capable side-by-side vehicle with the fastest speed of its time. In 2009, the innovations kept coming. Dual-arm suspension was added to the front of the vehicle and it received upgrades to both ergonomics and powertrains.
Fast forward to 2013, when Polaris introduced the Ranger XP 900 platform built on extreme performance. The ride was significantly improved, the ergonomics were redesigned, and new storage and accessory options were added.
Today, the Polaris RZR side by side is self-proclaimed as the number one sport performance vehicle in the world. With rugged, high-performance all-terrain vehicles that can accommodate up to six passengers without skipping a beat, it's easy to see why Polaris considered the pinnacle of UTV engineering and manufacturing.
What Makes a Side-by-Side RZR so Much Fun?
There are so many reasons why the side-by-side RZR is such a blast just wait until you get in one! 
We love zipping around the dunes in the Polaris RZR side by side. With "decisively superior power and performance to conquer any terrain," we agree with Polaris about the Razor's performance-based fun. Straightforward and intuitive, the familiar automotive-style steering and controls mean there's virtually no learning curve to overcome in order to hop in and drive.
Hang on tight, because the Polaris RZR XP 4 1000 has top speeds of 80 mph! Great for adrenaline lovers as well as those who like to cruise at moderate rates, we have single and multi-passenger models that are perfect for every riding style.
The side by side RZR also lets you marvel in Mother Nature's beauty. Zoom around the vast expanse of sand dunes at our Pismo Beach and Oregon locations, and visit our Palm Springs location for a trip through the desert.
Play hard knowing you can rely on the Razor's durability and unparalleled safety features. Steel roll cages add protection, while the low center of gravity works to keep all four wheels firmly on the ground. Exterior body paneling serves to keep debris and rocks out of the vehicle, protecting you and your passengers from the unexpected.
We can't overlook what some consider the best and most fun feature of all – the ability to ride side-by-side with your family and friends! Take your favorite people on an unforgettable adventure and see the excitement on their faces as you tear across the desert. Our selection of side by side Polaris RZR rentals allows you to choose from 2 and 4-person UTVs that will accommodate everyone in your party.
Polaris Rentals at Steve's ATV
Steve's ATV Rentals has a comprehensive selection of Polaris single-passenger and side-by-side rentals to choose from. Stop by any of our three west coast locations in Pismo Beach, Palm Springs, or Oregon and we'll get you riding.
We also make it simple to plan ahead. Book online with our easy to use reservation system and incorporate an off-road excursion into your vacation. Detailed descriptions of our Razor rentals make it possible to identify which model is right for you, even with no prior knowledge of UTVs. Since our rentals differ based on location, we suggest checking the list of available models from the reservation drop-down menu for the specific location you'll be choosing.
Polaris Sportsman Ace
If you're looking for an awesome one-seater RZR, then this is it. A great starting UTV for the beginning rider, the Polaris Sportsman Ace boasts a fully automatic transmission and a single-cylinder, 32 HP, 4-stroke engine. Quick, powerful, and safe, this vehicle will keep you moving in any weather.
Polaris RS1
This single-seater RZR UTV is fast. Sporty, nimble, and driver-focused, the RS1 becomes an extension of the driver. High-visibility sight-lines to oncoming terrain enhances safety and performance, while also creating a sensory adventure like nothing you've ever experienced.
Polaris RZR & RZR 4 800cc
Ideal for climbing a variety of terrain, the Polaris RZR and RZR 4 800 are 2 and 4-passenger vehicles, respectively. In this review from UTV Guide, the tester thought the dual-passenger cockpit felt roomy, even with two occupants. It was also noted that the vehicle "climbed up some decent rock areas with ease," and that "it accelerated up to top speed real quick.
Polaris RZR-S 900cc
One of the best ways to see the dunes or desert, the RZR-S 900 was designed for trail domination. Said to offer more than 13.2 inches of travel and a ridiculous 12.5 inches of ground clearance, nothing will stand in your way. Lightweight and equipped with the industry's best true all-wheel drive, you'll be leaving everyone else in the dust.
Polaris RZR XP 4 1000cc
Fear no terrain in the Polaris RZR XP 4 1000. Perfect for sun-up to sun-down play, it has the ultimate combination of power, suspension, and agility. Another 4-passenger style UTV, you can take friends and family on a thrilling adventure.
How Much is a Side-by-Side Rental?
We want our RZR side-by-side rentals to be accessible to everyone, which is why we've made our prices so reasonable. Transparent and up-front, you can quickly and easily check the rates for all of our rentals at all three locations by using the reservations drop-down menu.
Select the plus sign next to each model's description for a list of prices. Depending on the location you choose, our all-terrain vehicles can be rented by the hour or for larger blocks of time. At our Palm Springs location, you can choose a half-day (4 hours), full-day (8 hours), or a 24-hour rental time period.
Check out our discounts and specials page to save some cash on your excursion. We've partnered with Margarita Adventures to offer you the Zip N' Rip ziplining and ATV adventure package for the Pismo Beach location. You'll also find a list of "stay and play" specials from local hotels we've partnered with to get you a discount on your rental. This is all in addition to the great deals and discounts already listed on our site. 
Experience the Polaris RZR for Yourself
We don't want you to take our word about how awesomely fun the Polaris side by side RZR is – we want you to try it for yourself!
Performance, power, and safety combine to provide you with a UTV experience that's fun for the whole family. With a variety of Polaris RZR rentals to choose from, Steve's ATV Rentals is sure to have a model that exceeds your expectations.
Let us assist you in booking a reservation. Together, we can turn an ordinary day into an extraordinary adventure!