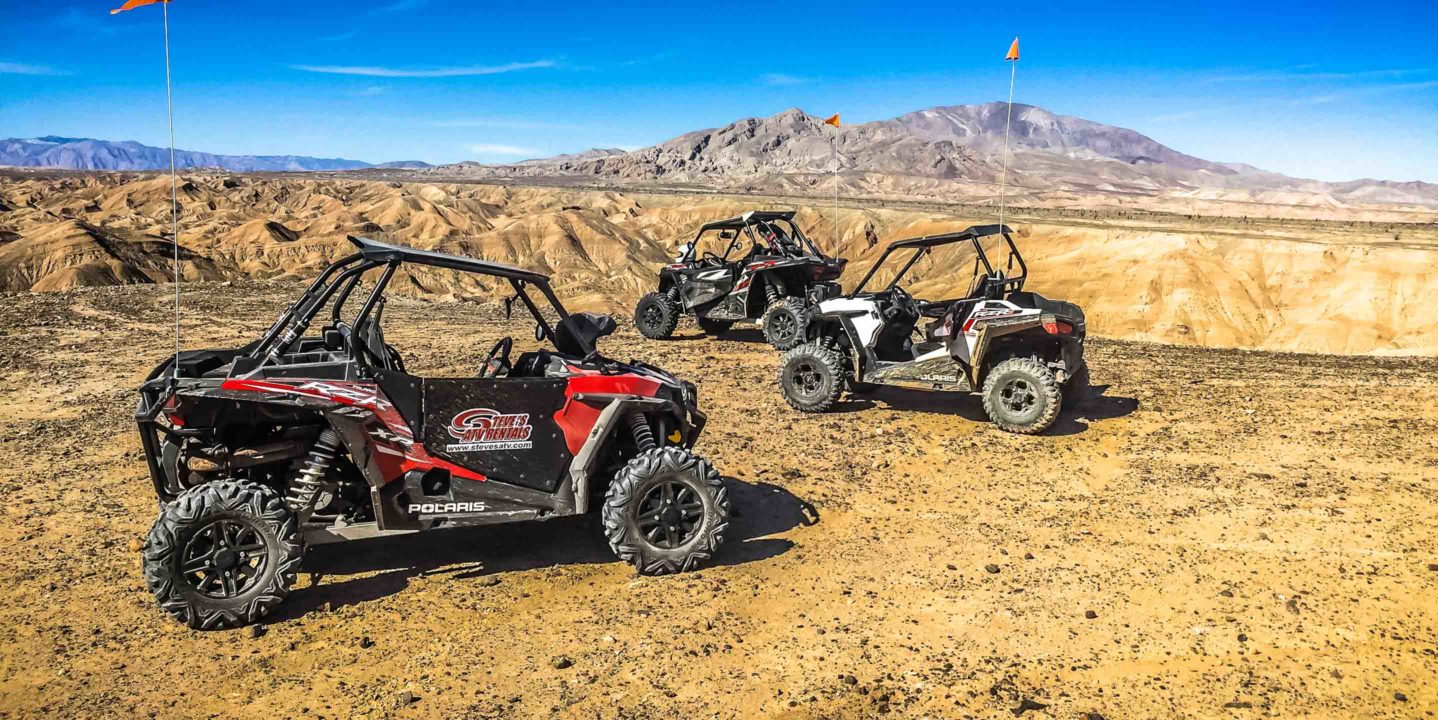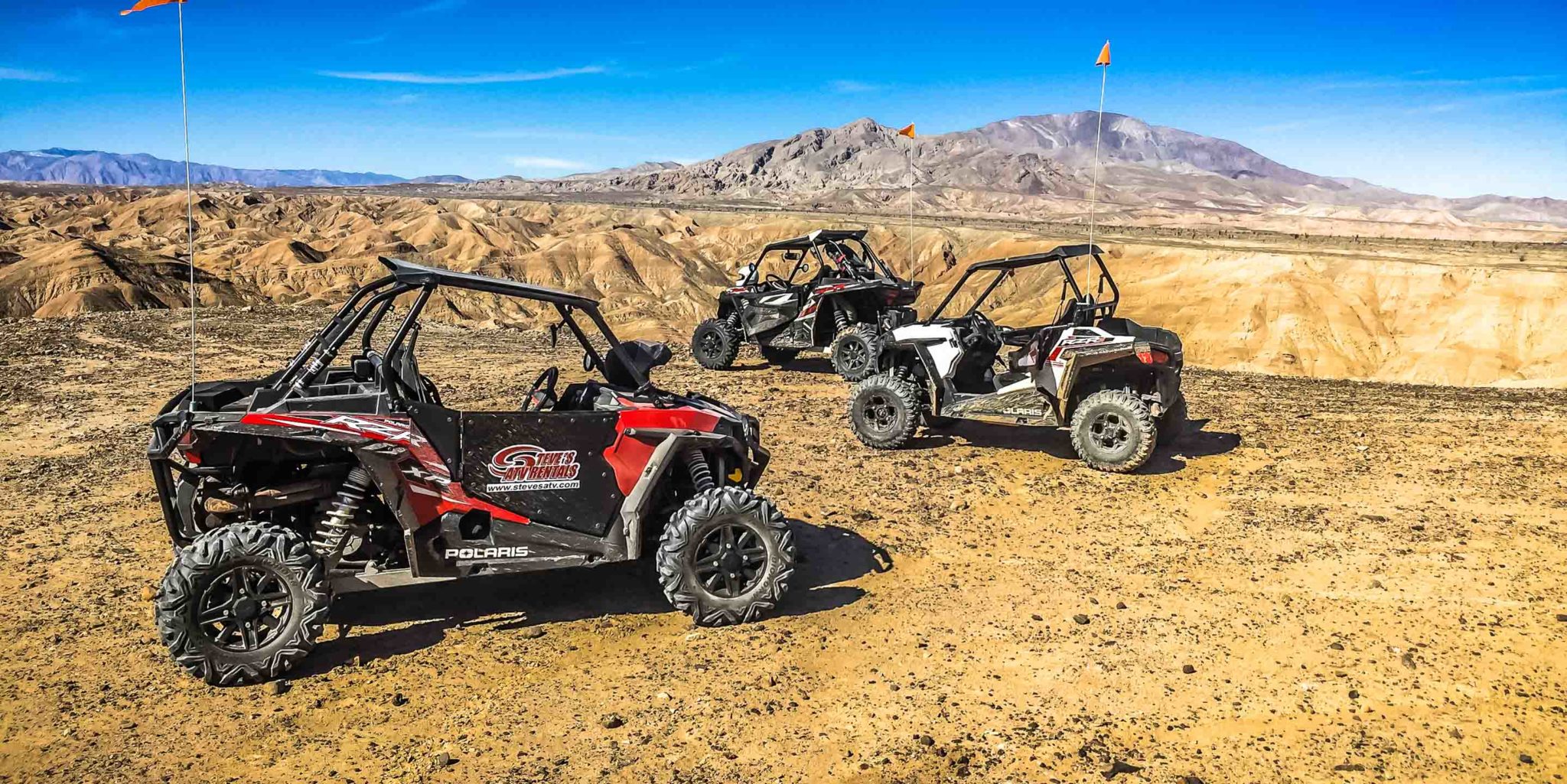 Tear along acres of magnificent desert at Ocotillo Wells SVRA with ATV rentals in the Palm Springs area. Whether you're on vacation or a Salton City local, make Steve's ATV Rentals part of your next adventure.
The Palm Springs area has so much to offer. Off-roading trails are thrilling and picturesque. Amenities, food, and other entertainment are just a short drive away. Discover the uniqueness of the state parks and why Steve's ATV Rentals is a favorite among solo, group, and family riders.
The Ocotillo Wells SVRA – Over 80,000 Acres to Play With!
The Ocotillo Wells SVRA has more than 80,000 acres of desert open for off-highway voyages. It's also thought of as one of California's most extreme OHV parks, making it ideal for riders of all skill levels. Among the flatlands and rolling dunes in the park, there are several must-see destinations.
Blow Sand Hill is a massive dune formed by wind-carried sand. The layers upon layers of silt are responsible for the larger-than-life mound seen before you. This a great spot for riding up and down, but it's also one of the most popular places in the park.
Conquer the challenging terrain known as Devil's Slide, if you dare. It consists of a 200-foot high granite and sand island that is actually an ancient decomposing mountaintop. Rumored to be haunted, the old hidden mine shafts scattered along the mountainside are where people have seen the eerie glow of flickering lights.
Zoom over to the Gas Domes, located more remotely, to witness large bubbles rise up through the mysterious muddy waterholes. The Pumpkin Patch is another unique, yet odd, area of Ocotillo Wells. Here you'll find round globular, pumpkin-like shapes sitting atop the ground that have formed due to erosion.
According to the Ocotillo Wells SVRA website, the western and part of the northern boundaries connect with the 600,000-acre Anza-Borrego Desert State Park. Although closed to off-highway vehicles, it is open to highway-legal vehicles along established roads. You can get here from Steve's ATV Rentals in under an hour.
Make enough time to see and do it all by setting up for some primitive camping at the SVRA. Open camping is allowed for up to 30 calendar days. They provide vault toilets, shade ramadas, picnic tables, and fire rings located in the Quarry, Main Street, and Holmes Camp areas. There are no water or dump stations, so prepare accordingly.
Ocotillo Wells Off-Road Rentals
Steve's ATV Rentals makes it easy to rent the perfect off-road vehicle for your needs. Plan your trip and reserve your rentals in advance. We have detailed descriptions of the UTVs and ATVs on our website, including age recommendations, weight limits, skill level, and passenger capacity.
With side-by-side off-road vehicles, also known as UTVs, you can take your entire family on an excursion they'll never forget! Cruise along endless, winding trails, and challenge your skills on the dunes. You can also pack a picnic and make a day of exploring the beautiful desert terrain.
Darting around on an ATV is nothing short of thrilling. With open, motorcycle-style riding, you can enjoy a full 360-degree view that gets to each one of your senses. You can cover ground quickly, explore the area, and climb challenging terrain while fulfilling your need for speed.
Ocotillo Wells ATV Rentals
Whether you're a novice off-roader or a seasoned rider, we have an all-terrain vehicle that's perfect for you. Some of our rentals are even available to children and teens under the supervision of an adult. Choose from manual, semi-automatic, and automatic transmissions and single or two-passenger ATVs.
Yamaha 125
If you're interested in renting a child-friendly ATV, then we can't recommend the Yamaha 125 enough. Perfect for young riders ages 9 to 12, 52 to 60-inches tall, and under 130lbs., this model is made for beginners. It has a fully-automatic transmission with reverse and is capable of getting around smaller dunes.
Polaris 330
Exclusive to our Palm Springs area location, the Polaris 330 is a great step up or starter ATV for riders over the age of 14. It's bigger and wider than the Yamaha 125 and offers many of the same amenities, like an automatic transmission. This vehicle offers more power for riders exceeding 140lbs.
Outlander 450 4×4
Available to drivers 18 years of age and older, the Outlander 450 4×4 is specifically designed for two riders. It's equipped with 4-wheel drive, an automatic transmission, and has been designed to be a much heavier ATV. The passenger can be under the age of 18 but must be tall enough to sit firmly on the seat and have their feet reach the footpeg.
Learn More About Ocotillo Wells ATV Rentals
Ocotillo Wells RZR Rentals
The RZRs and UTVs specific to this location are well-known for their designs allowing drivers and passengers to ride side-by-side. All operators of our RZRs in the Palm Springs area location must be at least 18 years of age or older, depending on the model.
Polaris RZR 800cc
Kick up some dust in this very fast, very sporty, non-governed 760cc–63 horsepower OHV. This two-passenger design features a twin-cylinder, 4-stroke, fully automatic transmission, and 4-wheel drive. It also comes with long-travel suspension that makes this machine able to crawl up any obstacle. You must be at least 25 to drive this vehicle.
Polaris RZR 900cc
Pile in this two or four-seater and hit the trails with your friends and family. Despite its capacity, this vehicle is still lighting fast. It has a non-governed 890cc–88 horsepower, twin-cylinder, 4-stroke, fully automatic transmission, and 4-wheel drive. You'll still get all the benefits of climbing steep and challenging terrain as in other smaller OHVs.
Yamaha Viking 700cc
If cruising the dunes, desert, and beaches are more your style, then you'll love the Yamaha Viking 700cc. Bring the whole crew in this six-passenger OHV that is not designed for racing. This model has been designed for unmatched middle passenger comfort and convenience. All passengers have 3-point seatbelts. 
Learn More About Ocotillo Wells UTV Rentals
UTV & ATV Riding in the Palm Springs Area is Awesome Fun
UTV and ATV riding in the Palm Springs area is always a blast. The dry climate and miles of desert plains are Mother Nature's playground for off-roading enthusiasts. On or off the sand, you'll discover plenty of ways to entertain the entire family.
Steve's ATV Rentals is located in the northeast corner of the Ocotillo Wells State Vehicular Recreation Area, in Salton City, with easy access to the area known as Truckhaven. We open every day from 8 a.m. to 5 p.m. ready for you to enjoy these incredible terrains.  
If you're looking for local restaurants and watering holes after a day of off-roading in the Palm Springs area, give Rancho 86 Restaurant and Bar a try. Located 10 miles north of Steve's ATV Rentals, you can fill up on casual, authentic Mexican cuisine.
For some fun and games with your food, check out Red Earth Casino. Seven miles north of our location and open 24 hours, they have over 400 slot machines plus casual dining options.
Take a one-tank trip about 45 minutes north to Coachella Valley, the popular festival destination, or about an hour north to Palm Springs. The latter is known for its mid-century modern architecture, Palm Springs Aerial Tramway, and the El Paseo Shopping District.
Off-Roading in the Palm Springs Area With Steve's ATV Rentals
Off-road adventures in the Palm Springs area begin with Steve's ATV Rentals. We encourage you to see for yourself why thousands flock to the Ocotillo Wells SVRA every year. Ideal for families, friends, groups of people, and soloists, everyone can enjoy the thrill of UTV and ATV riding in the California desert.