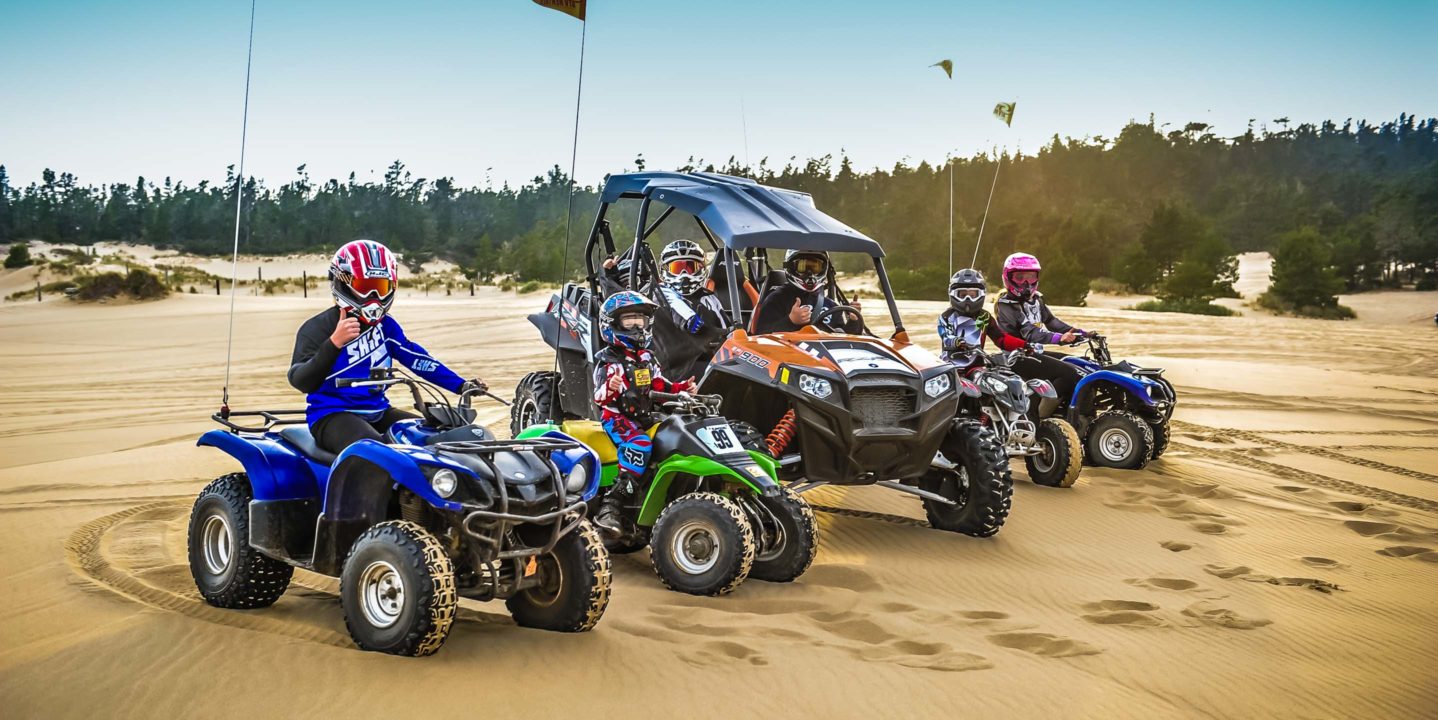 For many folks, summertime and its abundance of warm weather and sunshine means long walks on the beach, leisurely activities like bird-watching, and the American tradition of burning hotdogs over a campfire. But for others, summer means more adrenaline-fuelled pursuits, like tearing up a trail on an off-road machine.
If your summertime adventures tend to be more … adventurous, grab a strong cup of coffee and an energy bar and continue reading. (Helmet not required to read this article.)
Main Differences Between ATV Rentals and UTV Rentals
When it comes to choosing your off-road adventure, the first question to ask yourself is ― ATV rental or UTV rental?
Beyond the first letter, there may not seem to be much of a difference, both are capable of off-road, action-packed fun. That is where the similarities end, ATV (quad) rentals and UTV (side by side) rentals are very different experiences.
Let's begin with the basics, the acronyms. ATV stands for All-Terrain Vehicle, you may know them as quad bikes. UTV stands for Utility Task Vehicle, and are sometimes referred to as side-by-sides.
ATVs tend to be smaller and more nimble (perfect for those tight forest trails), UTVs are usually larger, sturdier and more powerful. If an ATV is like a cheetah, the UTV is a charging rhino.
To help you decide which type of animal you want to take for a ride (metaphorical of course!), we highlight a few key differences below. 
Bucket Seats… for you and your passengers
ATVs are usually for single riders, ATV riding in California draws off-roaders from all over the United States, thanks to the huge dunes, incredible landscapes, and exciting trails. 
UTVs can hold up to six people, depending on the model. The bucket seats and seatbelts in UTVs are a more comfortable and safer way to explore the dunes and deserts of California and Oregon.
Designed for Different Purposes'
ATVs are designed for quick turns, tight spaces, and racing. They're more difficult to ride as balance is required to maintain control of the machine, much in the way it is with motorcycles. 
Steering is done by maneuvering the handlebars, also like motorbikes. If you are heading out alone, or you and your buddies want to push the adrenaline a bit more, ATV rentals and trails may be for you.
UTVs were originally designed for heavy work, like hauling and pulling trailers. Remember, T is for Task, which makes UTVs popular with ranchers, farmers, and hunters. They are the workhorses.
They have evolved dramatically from those first days, these powerful machines have gone through relentless innovation over the last few years to become a combination of power, agility, and fun.
Driving them is very similar to driving a road vehicle, like a jeep or SUV, with a steering wheel rather than handlebars. And you can bring your family or friends along for the ride, making a utility vehicle rental a more-social option for your off-road adventures.
When Size Matters
ATVs have dominated the market for a longer period of time, which probably adds to the misconception that the two acronyms can be used interchangeably. 
ATVs are smaller and built for speed, fun, and maneuverability. Riders lean into turns and can do things that cannot be accomplished on UTVs. 
UTVs are larger, more powerful, and originally built for hard labor tasks. They can haul gear and cargo with ease, and are also more comfortable and safer, especially in the hands of less experienced off-road riders.
ATVs for Rent at Steve's ATV
At Steve's ATV Rentals, we've been in the business of renting ATVs and UTVs since 2001. If you're looking for fun and adventure along the Pacific Coast, we have dozens of models to choose from in three locations in California and Oregon. 
Our ATV and UTV models range from child and beginner-friendly models to high-performance models only suitable for more experienced riders.
Child-Friendly Models
For children aged 5-8 with little to no ATV-riding experience, the Polaris 50 is an excellent option. This is the smallest ATV we rent. It's only suitable for the KOA mini dunes in Oregon or flat, wide-open areas with few obstacles where your little ones can get in some good practice in a safe environment. The weight limit for this model is 65 pounds.
For children with a bit of ATV experience, we have two options ― the Suzuki 80 and the Polaris 90. These ATVs are suitable for ages 8-12 and are capable of handling smaller dunes with a max height of 10 feet. The weight limit on these models is also 65 pounds and, like the Polaris 50, requires adult supervision at all times.
Adolescent/Beginner Models
For beginners or older kids ― 9-12 years old and up to 130 pounds ―the Yamaha 125 is an excellent choice. It comes with an automatic transmission and reverse and can crush smaller dunes with the greatest of ease.
For more experienced riders age 14 and older, the Honda 250ex is a 14-stroke fun-machine worth considering. It comes with a 5-speed semi-automatic transmission and optional clutch, which means shifting will be required.
The Kymco 270 is an excellent choice for riders looking for more power than the 125 model but with many of the same features. It's suitable for ages 12 and up and for riders weighing at least 140 pounds, as it's a bit wider than the 125 model.
Another option that's very similar to the Kymco 270 is the Polaris 330. It's also a great choice for riders who are 14 and up and looking for something a bit larger and more powerful than the starter models.
High-Performance Models
For ATV riders age 18 and up with demonstratable riding experience, we have three models to choose from ― Honda 400ex, Can Am Outlander 450, and Polaris Trailblazer 500. The Honda comes with a 5-speed manual transmission, while the latter two are both automatics. An extra damage deposit is required for our high-performance models.
Our highest performance ATV is the Raptor 700. It has a 5-speed manual transmission and is only for riders age 30 and over.
UTVs for Rent at Steve's ATV
Steve's ATV Rentals has several great UTV models to choose from, whether you want a single-seat ride that's great for beginners or something big enough to accommodate the entire family.
UTVs for Single Riders
The Polaris Sportsman Ace is for the beginner UTV single rider age 18 and over. It comes with all-wheel drive and a 32 HP, 4-stroke engine. It's also fully automatic.
For the more experienced single UTV rider, the Polaris RS is a machine with real off-road adventure potential. It's fast and sporty thanks to its non-governed, 999cc 110 HP twin cylinder, 4-stroke engine. It comes with an automatic transmission and 4-wheel drive and can tackle any obstacle due to its long-travel suspension, making it a great choice to ride the bigger Oregon Dunes.
UTVs for Two Riders
Much like the Polaris RS for single riders, the dual-rider Polaris RZR 800cc and 900cc models are 4-wheel drive off-road machines that are capable of tackling dunes with ease. They're for drivers 25 and older (30+ for the 900cc model) and taller than 60 inches. Both models have 4-stroke engines and are fully automatic.
For drivers 35 and older, the Can-Am Maverick X3 900ho is an excellent choice. It has a 90 HP Rotax ACE inline triple-cylinder 900cc engine. It's 4-wheel drive, of course, and thanks again to the long travel suspension, can handle most obstacles that get in its way.
The Polaris RZR XP4 is our largest two-rider UTV option, and drivers must be 40 or older and a minimum height of 60 inches. This model comes with a 999cc twin-cylinder, 4-stroke engine. It's fully automatic, has 4-wheel drive, and will sail over the larger dunes with no trouble at all.
UTVs for Four Riders
We have two four-passenger UTV models for rent ― the Polaris RZR 4 800cc (63 HP) and the Polaris RZR XP4 900cc (88 HP).
Both models come with fully automatic transmissions and 4-wheel drive, and of course, the long-travel suspension that enables these machines to make large hurdles look like speed bumps. Drivers must be 30 and older. Front passengers must be at least 60 inches tall, while the minimum height for those in the back seats is 46 inches.
UTVs for Six Riders
The Yamaha Viking 700cc is the perfect UTV model for six people looking to cruise the beach or dunes, rather than racing around and climbing obstacles. The off-set center seats in the front and rear create a more comfortable ride, as do the 3-point seatbelts. If your adventures are on the tamer side, and if your group exceeds four people, the Viking is probably your best option.
Check out all of our ATV and UTVs for rent here:
ATV or UTV, Steve's ATV Rentals Has an Off-Road Adventure for You. 
Steve's ATV Rentals is the West Coast's premier ATV and UTV rental company. We have three unique locations to choose from ― Pismo Beach, Oregon Dunes, and Palm Springs. Why these locations? Because these are the areas we love to ride in ourselves.
Since 2001, Steve's ATV Rentals has been renting fun and excitement on the dunes or in the desert. For us, this isn't just a business. It's our passion!
Check out our website for current discounts and specials. Then make a reservation and get ready to experience the Pacific Coast or the deserts of Southern California in the most exciting way possible.