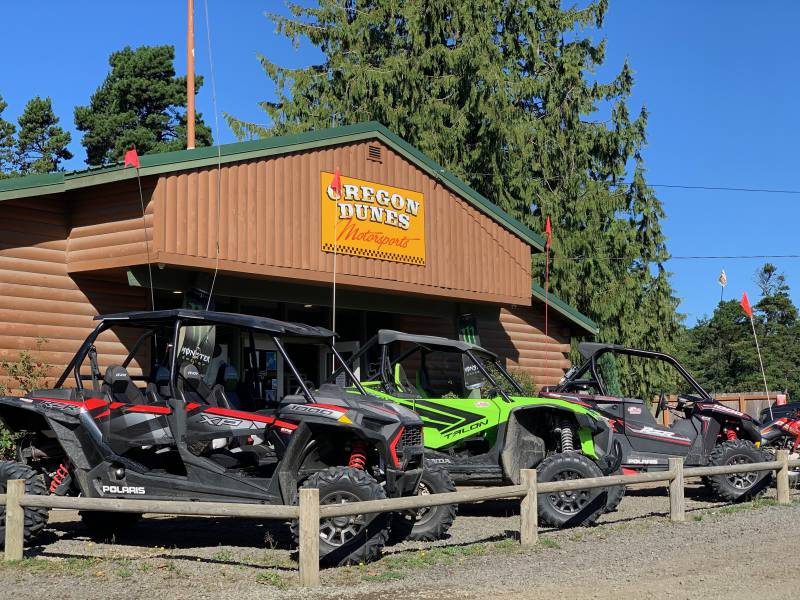 With over 40 miles of glorious coastline, thousands of acres of sand dunes, forest trails, and spectacular views to enjoy, the Oregon coast is tailor-made for off-road enthusiasts.
If this sounds like what you're looking for, you've come to the right place. Here are 7 reasons to ride ATV rentals on the Oregon coast dunes and the best ATV model recommendations to make the most of your off-road adventure.
Welcome to the Breathtaking Oregon Coastline
Stretching over 40 miles, you'll find thousands of acres of windblown sand known as the Oregon Dunes National Recreation Area (NRA). We suggest heading straight for Steve's ATV Rentals stationed in North Bend, near Coos Bay, to grab an off-road vehicle and jump-start your adventure.
Like no other dunes in the world, they provide a unique terrain of desert-like landscapes, lakes, rivers, oceans, and forests which blend to create a diverse riding experience you can only find in Oregon. They also accommodate numerous recreational activities, including ATV riding, hiking, photography, fishing, canoeing, horseback riding, and camping.
With rugged and dependable power and torque, riding ATVs on the Oregon coast is an exhilarating way to explore one of the most temperate coastal sand dunes in the world. You'll rip through the dunes, be amazed by the scenic and winding trails, and catch your breath on the most spectacular views. Whether you're riding solo, with a group of friends, or with your family, this is a unique experience you'll likely never forget.  
7 Reasons to Ride ATVs on the Oregon Coast
Whether you're an avid ATV rider, or interested in riding an ATV for the first time, there's enjoyment for every riding level. We've pulled together 7 reasons why you should definitely check out the trails on the Oregon coast, including some of the best ATVs to make the most of your off-road adventure.  
1. Huge Selection of ATV Trails in Oregon
Oregon Dunes National Recreation Area is 40 miles of open terrain with shifting sand dunes open to all off-road vehicles. It features year-round beach access, three developed campgrounds, staging areas, direct trail access, and main off-highway riding in the Horsfall/Spinreel areas, which are conveniently located less than ten minutes from our North Bend rental location.
A great way to experience these trails is by setting up camp at the Oregon Dunes KOA. This full-service private campground is just a short distance from Steve's ATV Rentals and provides amenities to make your stay even more enjoyable.
You're just 2 miles from the beach by ATV, and you can ride in and out of the campground with your off-road vehicles. In between trail riding and sightseeing, enjoy KOA's jump pad, mini dunes, free catch-and-release fishing, paddleboats, ice cream socials, and more!
If a little bit of everything is what you're looking for, Coos Bay is where you'll find it. With some very large dunes as well as some smaller ones, Coos Bay is suited for nearly every type of off-road vehicle and every level of experience. It boasts the largest riding area at the Oregon Dunes NRA between Spinreel Campground and Horsfall Road.
From sand roads and dunes to forest trails and full beach access, including the fully serviced KOA campground, you can't go wrong with Coos Bay. Check out the best Coos Bay ATVs for the Oregon sand dunes.
2. Oregon ATV Trails: Deserts, Forests, Beaches, and Mountains.  
If you've ever imagined the perfect ATV trail to be gorgeous green mountains on one end and a vast ocean on the other then look no further than the Oregon coast. The Coos Bay and North Bend areas are home to open dunes, marsh-like deflation plains, and scenic beaches that are sure to excite your senses.
You'll find several lakes that are good for fishing, swimming, canoeing, or kayaking. We recommend checking out Beale, Horsfall, and Snag Lakes for reeling in warm water species.
Designated off-highway vehicle routes in the Spinreel to Horsfall stretch will take riders on an otherworldly journey where forest and beach collide. The Horsfall Beach Campground is about 2 miles north of Coos Bay with dunes covering 1,076 acres of land. You'll be able to enjoy hours of fun and ambient beauty while inhaling the Pacific Ocean breeze as you zoom by on your ATV.
3. ATV Trails All to Yourself on the Oregon Coastline
Imagine boarding your flight and discovering that you not only have the window seat, but you've got the entire row to yourself. That's what it's like to go off-roading in Oregon – except it has nothing to do with luck. The ATV trails on the Oregon coastline are consistently uncrowded, despite the number of adventure seekers who visit.
Thousands of people frequent the dunes each year, but the acres and acres of sandy mounds make it possible to ride around with a sense of freedom on the wide-open terrain. Pack a picnic basket and your favorite finger foods and ride your ATV to the Pacific coastline for a spectacular sunset show. Bring someone special and make it a date or spend quality time with your family.  
4. Oregon Coast Sand Dunes: Off-Road Haven for National Events 
While the off-road trails in Oregon are extremely popular for thousands of riders every year – they're also a popular destination for some pretty big national riding events. And, if you're an avid off-road enthusiast, there are a couple of events you won't want to miss.
UTV Takeover is a four-day event in Coos Bay, designed specifically for ATVs and UTVs. With over 900 acres to play with, this huge event offers a variety of activities to choose from and a multitude of vendors to check out. You'll be able to test-drive the latest off-road models from Can-Am to Yamaha, find the perfect niche riding gear, and get as much trail time as your heart desires with group ride and dune tours.
Dunefest is a five-day event in Winchester Bay, made exclusively for off-road vehicles. You'll experience a freestyle show with X-Game athletes, a free-for-all drag strip, a racetrack, grudge matches, kids riding area, and an opportunity to show off your own off-road vehicle and win prizes.
5. Oregon Coast: A Welcoming Community 
Oregon is like the midwest of the West Coast. It boasts a friendly, small-town feel, and if you're from any place where that's not the norm you might miss it when you leave.
Add to that the off-road enthusiast community. You'll meet fellow off-roaders from all walks of life with a variety of ages and skill sets. You'll meet riders with an array of off-road vehicles, from stock to heavily modified, and will find their enthusiasm for the sport infectious. With open arms, this welcoming community of off-road riders in Oregon will be eager to share their vast experience and help you further your off-road knowledge.
6.  ATV Pick-Me Up: Relax with Locally Made Beer, Coffee, and Fresh Food
Once you've worked up an appetite on the trails, we suggest checking out some of Oregon's local delicacies and nearby restaurants. The region's craft brews, coffee culture, and fresh local food will extend the excitement from the dunes to the dinner table.
Quench your thirst for craft beer at 7 Devils Brewing Co. This brewery and pub perfects their private label ale using local, American ingredients and a small-batch brewing system. They self-distribute, so you'll only find their original, Pacific Northwest-style ales within a 100-mile radius of Coos Bay. The selective food menu features fresh, local ingredients, like Coos Bay oysters, and even has plates suitable for vegetarians.
A favorite among locals, So It Goes Coffee House will help put a pep in your step. Perfect for an early morning caffeine fix or an afternoon cup of joe, you can visit this joint until 3 p.m. daily. They also have specialty drinks, breakfast and lunch offerings, a bakery, and live events.
Raise your glass to a delicious meal after an eventful day on the trails. Hilltop House Restaurant and Lounge delivers a sensational dining experience with prime dune and waterfront views. Less than 10 minutes from our North Bend rental location, Hilltop House serves aged midwest beef from Cedar River Farms and fresh local seafood.  
7. Rent the Most Incredible ATVs and UTVs on the Oregon Coast
Whether you're a beginner or seasoned vet, or just young at heart, Steve's ATV Rentals offers a huge range of rentals. There are over 11 different models of ATVs, UTVs, and Side by Side RZRs to choose from. Unlike other ATV rental companies, Steve's ATV rentals do not come with speed governors or speed limiters, allowing you to decide the speed that is right for you. 
Young riders can check out the Suzuki 80 or the Polaris 90. These are small, lightweight ATVs with automatic transmissions, making them perfect for beginners with little to no experience. For the 14 and older crowd, the Honda 250ex, an exciting 4-stroke, 5-speed, semi-automatic transmission with optional clutch, is perfect for those with a little riding experience.
If you're an adult with a bit of experience under your belt, then you'll definitely want to check out the Honda 400ex. Its manual 5-speed transmission and high-performance capabilities require riders to have skillful ATV riding abilities. 
Steve's ATV Rentals provide families, friends, and solo riders the exact vehicle they need to have an adventure of a lifetime on the Oregon Coast. Browse our selection of ATV rentals today!
Why Not Book Your Oregon ATV Sand Dune Rental Today?
There's nothing like feeling the sun on your face and the wind blowing through your hair as you tear through the Oregon sand dunes. ATVs allow you to enjoy winding trails and catch breathtaking views, all while sitting securely on your off-road vehicle.
Even if you love nature but fear the thrill, you can still enjoy the scenic oceanside trails off the coast of Oregon. Breathe in the salty air and bask in the idyllic scenery while making memories with friends and family. Whether you're the adventure seeker or the nature lover, ATV riding on the Oregon coast is designed to be fun for everyone.
Book your off-road adventure at Oregon Dunes with Steve's ATV today!