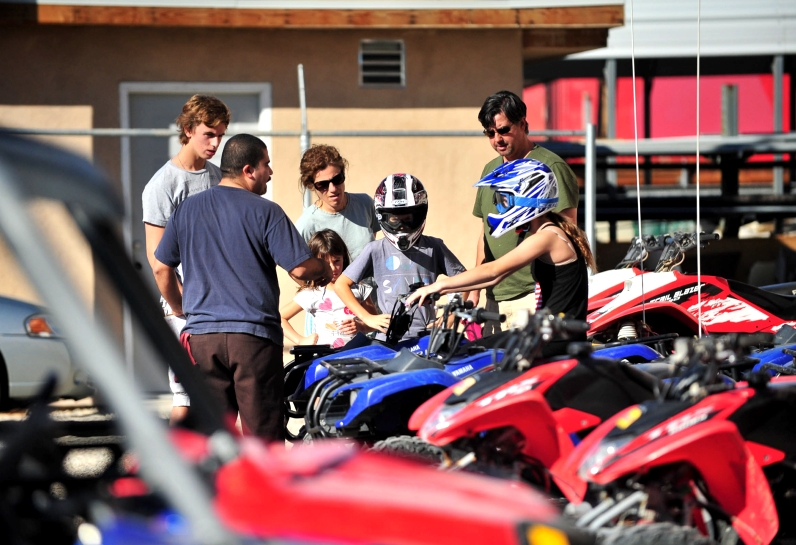 Before riding off on an ATV, there are some essential items every ATV rider needs. A few of these are for safety, while others help you stay comfortable so you can enjoy the experience. Experts can use this list as a refresher, but intermediate and beginner ATV riders should consider this an important primer. Arriving with these essentials helps you stay prepared for any situation you might run into during your ride.
Here are the 10 essentials every ATV rider needs.
Helmet
Hopefully, this one is obvious. Wearing a helmet while riding is necessary and if you're driving at almost any speed, you'll quickly see why. Even falling from a slow-moving ATV can result in head injuries without a helmet to protect you. The effects of an accident while riding with a helmet are much less harmful, which is why the team at Steve's ATV Rentals requires our renters to wear one. You can bring your own with you, or we can provide you with one. 
Goggles
Goggles are essential for both safety and comfort. Protecting your eyes while riding is critical, especially if it's windy. If dirt, sand, or debris kicks up, it might obscure your vision. Wearing goggles allows you to keep your eyes on where you're going instead of keeping them closed to avoid irritating them. Steve's ATV also has goggles available to rent.
Riding Gloves
While not 100% necessary, there's no doubt they help while riding. Not only do ATV riding gloves protect against any scrapes or cuts that you might accumulate during your ride or after a fall, but they also help with grip. Depending on the weather and riding conditions, riding without gloves for an extended time can become uncomfortable, which is why it's better to be safe than sorry. 
Water Bottle
Especially in the summer, it's essential to have water with you. Depending on how far you are from where you started, water might be a bit of a drive to find. Filling a water bottle or two before you start can save a lot of issues later in your ride. From both a safety and a comfort standpoint, remaining cool and hydrated while out riding is vitally important. 
Backpack
You'll need a place to store your water bottle(s) as well as any personal items that you're taking with you. Some backpacks are marketed towards ATV riders, but you can also purchase any basic bag. As long as it can fit a few essential items and is comfortable while riding, you're all set. Many of our riders use a backpack to hold their phone, wallet, keys, or accessories while on the ATV.
A Sweatshirt or Jacket
You can either bring one in your backpack or change into one before you start riding. Most veteran ATV riders can think of at least one instance of weather conditions changing in the middle of a ride and wishing they had brought some heavier clothes. Depending on how long you plan on riding, being prepared with warmer clothes is important, so you don't have to spend an hour—or longer—cold on your ATV.
Change of Clothes or Shoes
Similar to the item mentioned above, it's essential to dress appropriately to ride. If you're arriving in sandals, have a pair of closed-toe shoes in your bag to wear. Most riders wear long pants while riding, so if you're wearing shorts and would like to change, pack a pair of jeans with you. 
A Portable Phone Charger
In the case of an emergency—or you just want a beautiful picture—having a charged cell phone is necessary. Since you won't be near any outlets while riding, a portable charger is a lifesaver. If you didn't fully charge your phone beforehand and you're on a long ride, you'll wish you had one!
Sunscreen
If you're spending hours on the ATV, you're going to need sunscreen. On days with a clear sky, throw a small bottle into your backpack and use it before starting your ride. Even if it isn't the summer, being out in the sun for that long without sunscreen can be harmful. Many ATV riding areas are very open with little shade, so keep that in mind.
Small Snacks
ATV riding is more physically demanding than many people think. On longer riding sessions of two or more hours, you might get hungry. Having something quick like trail mix in your bag is perfect for taking a break and refueling. Even if it's just a granola bar, it's better than riding on an empty stomach.
Coming prepared with these essentials is vital for every kind of ATV rider. At Steve's ATV Rentals, we provide or rent helmets, goggles, and riding gloves to our riders to ensure safety and comfort. Are you interested in riding with us? Check out our discounts and specials and book your ATV excursion today!